Dynamic Leadership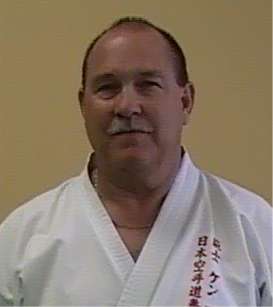 KEN ROSSON
HANSHI
8th Degree Black Belt

Condensed Biography
Bakersfield, California, Wakayama Japan's Sister City, was the place where Hanshi Ken Rosson first became involved with Mr. Ujita.
Ken Rosson observed a karate demonstration by the Wakayama Karate Team during one of Ujita Sensei's many trips to Bakersfield. (Shozo Ujita was an executive in Master Gogan Yamaguchi's Goju Kai organization)
Already involved in judo and aikido at the time, Mr. Rosson was intrigued with the strength and grace of these karate practitioners. So impressed in fact that he asked Mr. Ujita how he too could learn this fascinating art called karate? Mr. Ujita welcomed his interest and agreed to help open a dojo in Bakersfield, California. In 1964 Ujita Sensei began by sending one of his students, Sensei Toshi, to help establish and instruct at Bakersfield's first Kenbudokan Dojo (school).
Sensei Toshi stayed in Bakersfield for approximately one year and then returned to Japan. At his departure, the operation of the dojo was placed under the supervision of Mr. Jack Griffin. Mr. Griffin ceased operations of the Kenbudokan Dojo in 1970 when he moved to Santa Barbara. At that time, Mr. Rosson assumed all Bakersfield Kenbudokan responsibilities and has supervised operations since.
As director of the Bakersfield, Kenbudokan he began extensive travel to Japan. This availed him the opportunity to train with many of Japans eminent Karate-Do masters and to compete in numerous world-class Karate-Do tournaments.
---
Hanshi's formal martial arts training began in 1960 with the study of Aikido and Judo. In 1964 he helped open and run the first karate school in Bakersfield, Kenbudokan Goju Kai. In 1966 he extended his training to San Francisco under the tutelage of Goshi Yamaguchi and in the following year with Gosei Yamaguchi (sons of the late Gogan Yamaguchi). Mr. Rosson was afforded the opportunity to study directly under Grand Master Gogan Yamaguchi during many of the masters' trips to the United States.
Mr. Rosson resigned from the National Goju Kai in 1979, but has remained in contact with the Hombu Dojo in Tokyo, Japan. Following his resignation from the National Goju Kai, he formed the Goju Ryu Karate Federation of America in 1979. He was invited to join the Nippon Karate Do Rengo Kai under the supervision of Grand Master Teruo Hayashi. In 1980 Grand Master Hayashi asked him to direct the new and independent Japan Karate Do Hayashi Ha Goju Ryu Kai in the U.S.
In 1996 due to the political unrest of the Japan Karate Do Hayashi Ha, Hanshi Rosson decided to reestablish the Japan Karate Do Kenbudokan in honor of Grand Master Ujita's wish. Following the reestablishment of the Kenbudokan in the United States numerous existing Karate-Do organizations
voiced their desire to join with Hanshi's organization. Subsequently Hanshi renamed his organization to Kenbudokai.
Of the many events in which Hanshi Rosson has participated, he considers the 1979 "Wado Kai World Championships" and the 1980 "Hayashi Ha World Championships" to be two of the world's most prestigious. Mr. Rosson says "Perhaps the most memorable was first being asked to be part of the 1979 U.S.A. Wado Team, attending Hironri Otsuka's (Grand Master of Wado Ryu), 92nd birthday party in Tokyo, and competing in the World Championships Tournament."
---
Hanshi Rosson returned to Osaka, Japan in 1980 to compete in the Hayashi Ha World Championships with seven of his students, all of whom brought back "Gold". In 1985, at the Hayashi Ha International Championships, Hanshi Rosson at age 45, was asked to resign from competition so he could receive his Kyoshi Title.
Hanshi Rosson received the International Martial Arts Federation's "Budo of the Year Award" in both 1985 and 1990, which is signed by Prince Naruhiko Higashikuni. Hanshi holds these, and the hundreds of other trophies and awards that he has received in his 40 years of Martial Arts training, very dear to his heart.
Over the past 42 Years Hanshi has trained and established lasting relationships with many of the renowned Martial Arts Masters of this century.
Master Shojo Ujita, Grand Master Gogan Yamaguchi, Grand Master Teruo Hayashi, Grand Master Osamu Ozawa, Grand Master Takashi (Hironori) Otsuka, Master Hirokazu Kanazawa, Master Gosei Yamaguchi, Master Goshi Yamaguchi, Master Rudy Crosswell, Master Ray Dalke, Master Fumio Demura, Master Paul Godshaw, Master Hagashi, Master Dan Ivan, Master Takayki Kubota, Master Mikamai, Master Minibu Miki, Master Nakayama, Master Nigishi, Master Hidetaka Nishiama, Master Tom Pell, Master Sato, Master Suzuki, Master Ushiro, to name a few, and others who's accomplishments will soon place their names among the elite.
---
In Honor of my friend,
the late
Shihan Travis Self
---
My Sensei

Shozo Ujita

The Founder of Kenbudokan Karate-Do
Ujita Sensei designated Hanshi Ken Rosson as his Champion.
---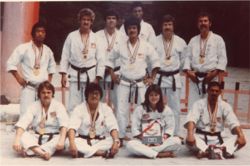 1979 United States Wado Team
---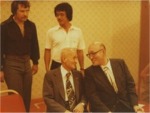 Otsuka Sensei's 92nd Birthday Celebration
---
Hanshi Rosson currently resides and teaches in Bakersfield, California.